Melissa Ferrick Lyrics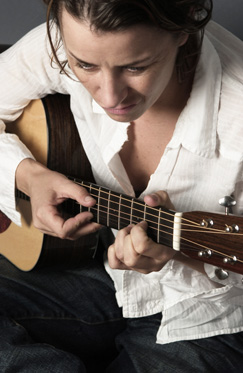 Photographer: Bryna Gootkind, from Melissa Ferrick's official site.

Hi, my name is Amber, and welcome. This site contains all of Melissa Ferrick's lyrics and is searchable, so if you ever have one particular lyric stuck in your head, you can come here and find the song using the search engine. I hope all ferrickheads find the site useful, and please e-mail me if you have any suggestions or corrections. I got these lyrics from many different sites, including Jaeda's wonderful site and various bootlegs.

all songs 2004 Melissa Ferrick Right On Publishing (except those noted) all rights reserved.

Official word on the "I'm A Lesbian" parody: When I inquired about it through e-mail, Marissa Caroceti, from Right On Office, said the following: "no she did NOT have anything to do with this. It was a big mix up on the web." So there ya go.

6/1/06: Added lyrics for Long, Long Time, One Year, and Closer. Thank you to listeninghard for transcribing these lyrics!

4/24/06: Added lyrics for Harmless (Just One Kiss).

4/3/06: Added lyrics for Stuck, Easy, Never Give Up, Everything You Get, Get Some Sleep (Inside) and Rest Now. Enjoy!

7/4/05: Happy 4th! Mike has generously e-mailed me the tab for Bad Bad Girl.Have fun!

6/12/05: I've created an index of all the guitar tablature. It's here

12/31/04: New tabs for Anything Anywhere and Marie in the Middle here

12/6/04: Guess what? I've created a Melissa Ferrick Fan Forum! Check it out HERE!

By the way, thank you to everyone who's visited the site!

What's New?

Site created: July 20, 2004

Massive Blur (1993)
Willing To Wait (1995)
Made of Honor (1996)
Melissa Ferrick +1 (1997)
Everything I Need (1998)
Freedom (1999)
Skinnier, Faster, Live at the B.P.C. (2001)
Valentine Heartache (2001)
Listen Hard (2002)
70 People at 70 Feet (2003)
The Other Side (2004)
In The Eyes of Strangers (2006)
Unreleased Songs

Massive Blur (1993)


1 | Honest Eyes
2 | Happy Song
3 | Hello Dad
4 | What Have I Got To Lose
5 | Love Song
6 | Ten Friends
7 | For Once In My Life
8 | Blue Sky Night
9 | Massive Blur
10 | Take Me All
11 | Wonder Why
12 | The Meaning Of Love
13 | In A World Like This
14 | Breaking Vows

Back To Top
Willing to Wait (1995)

1 | I Am Not
2 | Cracker Jack Kid
3 | Faking
4 | Falling On Fists
5 | Til You're Dead
6 | Gotta Go Now
7 | Willing To Wait
8 | I Am Done
9 | When You Left
10 | Trouble In My Head
11 | Somehow We Get There
12 | Time Flies
Back To Top
Made Of Honor (1996)

1 | Asking For Love
2 | Alone
3 | To Let You See Me
4 | Somebody Help Me
5 | Aida
6 | Taken A Liking
7 | Frog Named Freddy
8 | Willing To Wait
Back To Top
Melissa Ferrick +1 (1997)
1 | Intro
2 | Asking For Love
3 | Let Me Go
4 | Willing to Wait
5 | Somebody Help Me
6 | Massive Blur
7 | To Let You See Me
8 | Heredity
9 | You've Known it All Along
10 | Frog Named Freddy
11 | Alone
12 | Blue Sky Night
13 | Till You're Dead
14 | Favorite Person in the World
Back To Top
Everything I Need (1998)

1 | Will Arrive
2 | It's Alright
3 | Everything I Need
4 | Fear and Time
5 | Particular Place To Be
6 | I like It That Way
7 | Stand Still
8 | Asking For Love
9 | Do It Over
10 | To Let You See Me
11 | Don't Say Goodbye
Back To Top
Freedom (1999)
1) Freedom
2) Hold On
3) North Carolina
4) Some Kinda Nerve
5) Blind Side
6) Little Love
7) The Stranger
8) Then So It Is
9) Win 'Em Over
10) This Is Love
11) Drive
Back To Top
Skinnier, Faster, Live at the B.P.C. (2001)

1 | Intro
2 | Freedom
3 | Win 'Em Over
4 | It's Alright
5 | I Will Arrive
6 | Blind Side
7 | Some Kinda Nerve
8 | Then So It Is
9 | Everything I Need
10 | Faking
11 | To Let You See Me
12 | This Is Love
13 | The Stranger
14 | North Carolina
15 | Little Love
16 | Particular Place To Be
17 | Gotta Go Now
18 | Willing To Wait
19 | Will You Be The One
20 | Hold On
21 | Welcome To My Life
22 | Mr. Bumblebee
23 | Drive
24 | Drive (MK's Moog Mix)
Back To Top
Valentine Heartache (2001)


1 | Welcome To My Life
2 | One Night Stand
3 | Who Knows Why
4 | Crack The Mirror
5 | Mercy
6 | I Still Love You
7 | To Feel Real
8 | Break Up Song
9 | Sky Above
10 | Will You Be The One
11 | E-mail
12 | Moses (Patty Griffin Song)
Back To Top
Listen Hard (2002)


1 | Burn This Guitar
2 | Shatter Me
3 | Back In Love
4 | You
5 | All For Me
6 | Fighting Chance
7 | Selfish Side
8 | Marie in the Middle
9 | Let's Fly
10 | Thinking
Back To Top

70 People at 70 Feet (2003)



1 | Intro
2 | Love Song
3 | Hold On
4 | Freedom
5 | Burn This Guitar
6 | Some Kinda Nerve
7 | Mercy
8 | Then So It is
9 | Everything I need
10 | Will You Be the One
11 | Nebraska
12 | Who Knows Why
13 | All For Me
14 | Crack the Mirror
15 | Black Tornado (Dan Bern Song)
16 | The Stranger
17 | North Carolina
18 | Welcome to My Life
19 | Drive
Back To Top

The Other Side (2004)

1. Beijing
2. Other Side
3. Nebraska
4. Street Light
5. I Give Up
6. Bad Bad Girl
7. Fearless
8. Every Three Words
9. Anything Anywhere
10. Westbound
Back To Top

In The Eyes of Strangers (2006)

1. Never Give Up
2. Inside
3. Everything You Get
4. Closer
5.One Year
6. Stuck
7. Rest Now
8. Miss Liberty (Dayna Kurtz)
9. Easy
10. Come On Life
11. It's Been A Long Time
Harmless (Just One Kiss)
The Jazz Song (Real)

Back To Top

"This web site is not officially affiliated in any way whatsoever with Melissa Ferrick or her management or her recording label, and neither Melissa Ferrick, nor her management nor her recording label bear any responsibility, legal, moral or otherwise, for the information and opinions contained here. This is an independent web site produced by private individuals and should be regarded and treated as such."